Welcome to Tri-State Orthopaedics
Tri-State Orthopaedics, with locations in Germantown and Memphis, Tennessee, is under the direction of Apurva Dalal, MD, a renowned board-certified orthopedic surgeon. Dr. Dalal completed residencies in general surgery with additional training in orthopedic surgery, joint replacement, and sports surgery.
Dr. Dalal is a knowledgeable pioneer in robotic-assisted hip and knee replacement surgery. As an early adopter, he is the most experienced robotic joint replacement surgeon in the tri-state area. Dr. Dalal built his practice to provide "big-city" state-of-the-art services and technologies with a small practice, personalized patient focus. The practice's diverse services include a physical therapy suite at the Germantown location for physical therapy and postoperative rehabilitation needs.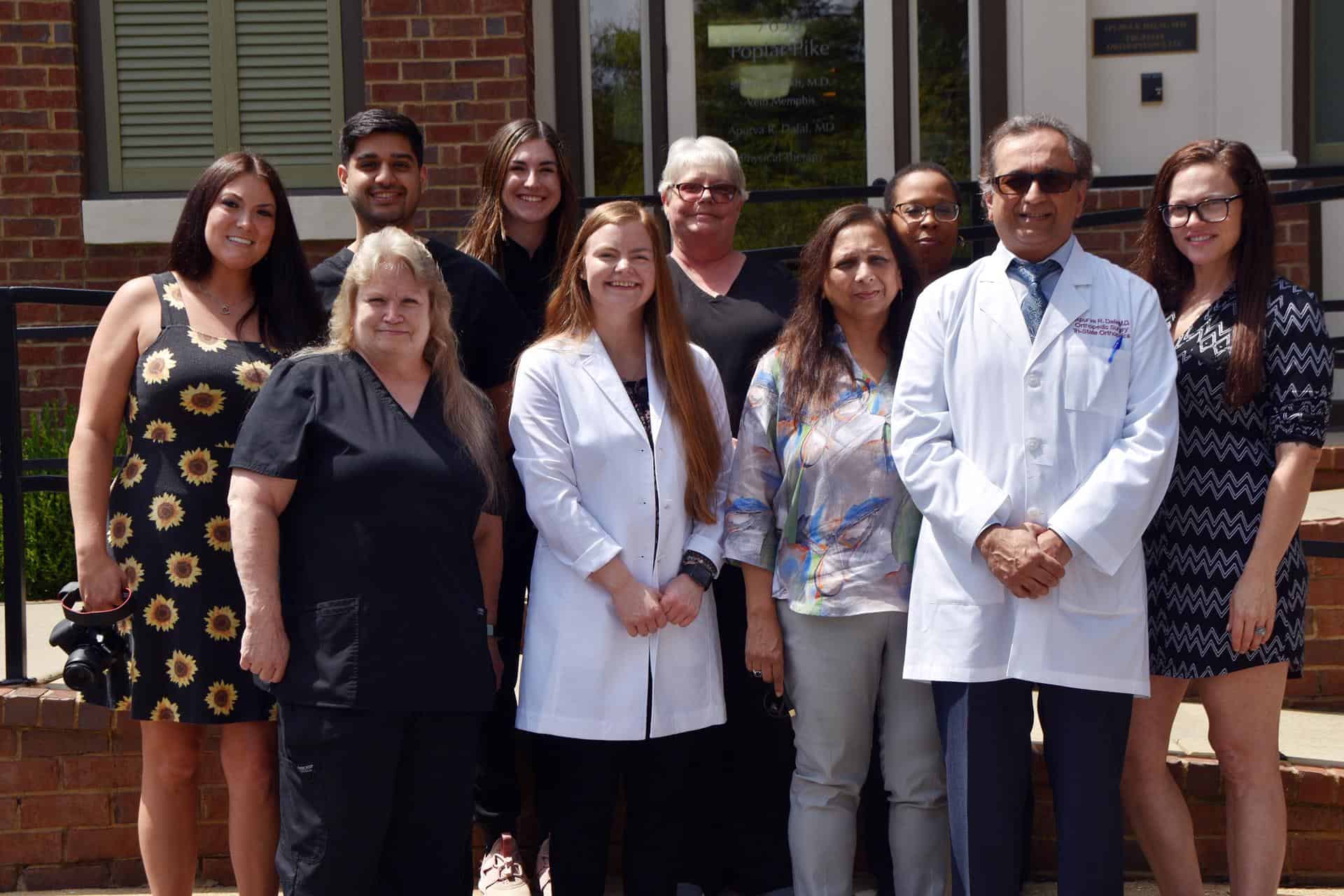 Testimonials
I recently had a total hip replacement done by Dr Dalal. I am very pleased at the outcome, Dr Dalal and his team of associates are very knowledgeable and professional. His office staff is very helpful with all my questions and needs. I would refer Dr Dalal to anyone with the needs he and his team can help you with.
Glenn P.
I recently saw Dr. Dalal and his PA, Shannon at the Germantown clinic for knee pain. I had a great experience, from check-in, to x-rays, to the exam and treatment. Dr. Dalal and his staff are top notch! I never felt rushed and felt confident that both Dr. Dalal and Shannon really listened to my concerns. This staff is extremely knowledgeable and has great patient interaction. After explaining my options, Dr. Dalal performed an aspiration of my knee and a cortisone injection. Almost 4 months later I am still pain free. I can't thank Dr. Dalal and his staff enough for the great service they have provided me.
Kim L.
I'm so Happy with my dr. Dalal he fixed my knee and now I can walk, love my doctor he's the best and will not stop until he gets you right.
Geneva V.
I had a total knee replacement about 1 month ago, performed by Dr Dalal. I was off of pain killers about 10 days after surgery. My incision scar is only about 1mm wide. Looks great. I have not needed any type of assistance such as a cane or crutches to walk. I was driving my truck 2 weeks post op. (Not approved by Dr Dalal)
His entire staff was very friendly and very professional.
I would recommend Dr Dalal to anybody needing surgery.
James S.
What a fantastic medical group! Dr. Dalal truly cares about his patients and ensures that all their needs are met! Rarely do you go to a doctors office and encounter a staff that will go out of their way to ensure you are taken care of. Tri-state Orthopedic is that staff!
Thomas H.
First in Memphis to perform Robotic Assisted Hip and Knee Replacement. Dr. Dalal started this five years before anyone else ever thought to do so!
Most experienced Robotic Assisted Hip and Knee Surgeon in Memphis!
I started Robotic Surgery in Joint Replacement in 2012 and so far have done more cases then anyone else. Dr. Dalal is the most experienced Robotic Joint Replacement Surgeon with excellent reputation.
Advantage of a small practice. Personalized attention. Here you will see same group of people each and every visit.
Most trained Surgeon in Memphis! Dr. Dalal is not only Orthopedic surgeon with fellowship in Joint Replacement and Sports Surgery, but also was trained General Surgeon before he did Orthopaedic Surgery.
Insurances Accepted
For any coverage-related questions, please call our office.